Backbone and CASASOFT join forces to bring real estate marketing to the next level.

Exciting times are here. It is with great pleasure (and much enthusiasm) that we announce the new partnership between Backbone and CASASOFT. After years of both companies offering outstanding service to their clients, we have now collaborated to bring you the very best of what each has to offer.
CASASOFT offer a range of virtual products all under one digital roof. Their aim is to make marketing a property as simple as possible – all in one click! Their solutions are modern, intuitive and enable real estate agents to make the best of each and every property on their books. CASASOFT are the leading property software company, allowing real estate agents to manage their property stock effectively. No more pen and paper or trying to commit things to memory. CASASOFT's solutions make it as easy as possible to have a growing real estate business without the headache. See your entire portfolio at a glance so you and your entire team can look at the data and provide the very best service for your valuable clients.
Backbone's platform is now completing CASASOFT's offering, bringing real estate agents and visual production professionals together to get the very best real estate visuals. With this new partnership, CASASOFT's customers can now order any type of real estate visuals in 2 minutes and get delivered within 48 hours. This includes photos, and virtual visits – all the visuals an up-to-date real estate agent needs.

"We are pleased to announce our cooperation with Backbone. The leading platform for real estate visuals is partnering with the leader in real estate software. Our customers benefit from an easy way to order photos directly in our CASAONE software." – Lukas Bossart, CEO of CASASOFT AG
Why Have We Joined Forces?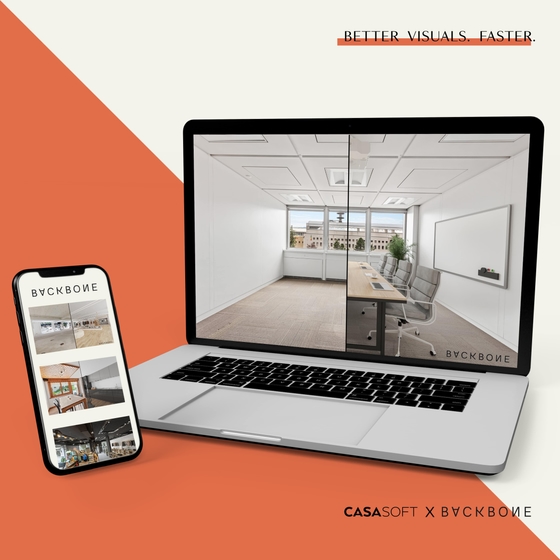 That's a great question. As you know, here at Backbone we're always looking at ways to improve what we offer. And when we started talking to CASASOFT, we knew that there was a natural synergy between the two of us. Here are some of the reasons we built this partnership -
- A shared concept: better marketing (and for Backbone, better visuals) helps to sell properties faster and at a better price. The synergy is obvious – we want to make it as easy as possible for real estate agents to access better visuals without breaking the bank.

- 2 ecosystems meet: Backbone is a leading ecosystem dedicated to real estate visuals, from ordering, capturing and production to creation, collaboration, sharing and hosting. This is the full-service package as far as visuals are concerned. CASASOFT completes the circle as they are an ecosystem around real estate marketing. Together we allow full management of a real estate business in one place.
- A complementary expertise: Backbone now offers access to a platform to order and manage and collaborate on their visuals, all from one place to CASASOFT's customers as standard. That means they don't just get CASASOFT's expertise – but Backbone's expertise too.

- This partnership is also a way to offer more opportunities for our creative community.
- Finally, with this new partnership, backbone make one more step to fulfil its mission: "To become the biggest ecosystem of visuals reshaping the production experience".
"We are very proud of this new partnership. CASASOFT is the leading platform for real estate marketing and Backbone for Real estate visuals. Our two platforms complete one another." – Dorian de Vinck, CEO of Backbone Art SA

All of these are great reasons that two excellent, innovative companies should work together.
Together Backbone and CASASOFT bring Real Estate marketing to the next level...