Why Are Virtual Visits Worth The Investment?

It has become quite clear over the past few years that buyers demand virtual tours as part of their home buying experience. And when you look at all the positives of a virtual tour, you can see just why this has become a staple of the successful real estate agent. And when COVID hit, the reliance on virtual tours became a must for all real estate agents. The question now isn't whether virtual tours should be a part of the process of selling a home. The question now is the quality of the tour to stand out from the competition.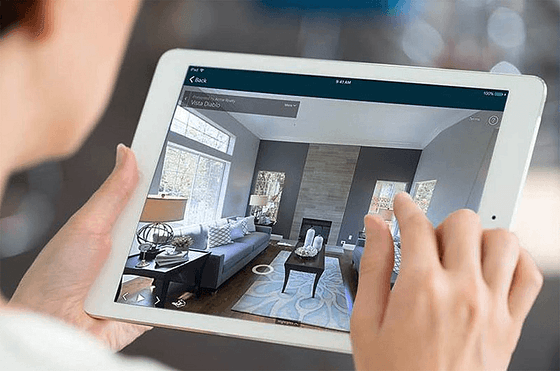 There are two main forms of virtual tour. One shows the layout of the property, allowing the buyer to click from space to space, seeing what the property looks like inside. If you're familiar with Google Street View, then you will be familiar with this kind of virtual tour. And then there is the guided virtual tour where a personal, human element is added to the tour.
Think of it as similar to a video call with clients, walking them through a property even though they're not present. And this is often the difference between an average real estate agent and a great one – the human touch.
Why Are Virtual Tours So Successful?
Great question. And one that has multiple facets to the answer. Time is a major contributing factor in all of this. The time it takes for a client to get from property to property to view takes its toll on an already busy life. So, being able to view virtually saves them the time and hassle of visiting a property that might just not 'do it' for them. In addition, your own time is hugely important. Driving out to a viewing appointment to find that the client hasn't shown is frustrating and has a time cost. Virtual tours take much of this away.
Filtering out those wanting to buy a property from those who just want to have a look is really helpful too. If, as real estate agents, we can concentrate our time on those clients who are primed to buy then we can become much more efficient – and much more effective.
And virtual tours are a great instruction-winner too. Vendors love the fact that your real estate agency is at the cutting edge of technology. It is no longer a nice additional service and has become an essential toll in the modern real estate marketplace.
And What Do The Facts And Figures Say?
Well, the statistics behind the usage of virtual tours are pretty startling, to say the least. If you didn't feel that virtual tours were for you, then please take a look at the information below. It will really pen your eyes to the potential (potential that is being realised by your competition).
54% of buyers now won't look at a property if they cannot view virtual images. That's more than half of your target market gone in an instant if you don't offer virtual tours.
A massive 63% of people made an offer sight unseen on a property. This shows that the real estate market has changed beyond all recognition. Seeing a property used to be the start of the buying process. Now it sits firmly at the end.
The emerging market of 18-year-olds to 34-year-olds are 130% more likely to buy a property with a virtual tour. In many parts of the world, these are the people with the cash. If you keep them happy then you fuel the rest of the market, as well as being able to offer lucrative financial services on the back of the sale. Keep these buyers happy and you keep them for life.
And finally, a Planet Home study shows that 75% of all potential buyers stated they preferred a virtual tour to assist in the buying decision. Now that's another startling figure.
So, without delay, you should make virtual tours part of your property listings. If you already offer these, the time is now to look at the quality of what you offer. If you have any questions at all about virtual tours then get in touch. We're the experts, here to make the process as simple as possible for you – freeing up your time to do what you do best.